In case you didn't know, Disneyland opened its doors on July 17th, 1955. Growing up I loved Disneyland, but that was nothing unique among my peers since I was lucky enough to grow up about 20 minutes away from the park. As a teenager I had an Annual Passport, and used it as often as I could. As an adult, I still love Disneyland. Visiting the park brings back a lot of great memories for me, and of course it's a great place to make new memories.
Over the years, Disneyland has gone through many changes, but has always been a place for both adults and children to have fun. In honor of Disneyland's upcoming birthday, I thought it would be fun to educate people who might not know much about the history of the park.
Opening Day Chaos
Opening day at Disneyland was a rough start. On July 17th, 1955, Disneyland was dedicated at an "International Press Preview" which was only open to invited guests and the media. It was discovered that only about half of the people that attended were actual invitees. The rest had purchased counterfeit tickets or sneaked into the park by climbing the fence. The following day the press preview was televised nationwide and was anchored by Art Linkletter, Bob Cummings, and Ronald Reagan. The televised special was full of hiccups, including a camera catching Cummings kissing a dancer. In addition to televised fumbles, the opening of the park caused horrible traffic and delays on the then two-lane Harbor Boulevard. The temperature hit an unusual high of 101 °F, and because of a local plumber's strike, Walt Disney was forced to choose between having working toilets or having working water fountains on opening day. Disney chose the former, and since the Disneyland opening was sponsored by Pepsi, park guests thought the non-functional water fountains were a cheap marketing tactic to encourage more soda sales. Famous figures of the time were scheduled to show up in 2 hour increments, but managed to all show up at once. The asphalt at the park had only just been poured that morning, and was soft enough for women's high heels to sink into. Some parents threw their children over the crowd's shoulders to get them onto rides. Originally July 17th was intended as only a preview, and July 18th was considered the official opening date. However, because of the television broadcast, the company adopted July 17th as their official opening date, and that is now the official date that is celebrated as Disneyland's birthday.
Characters
When Disneyland opened, the park didn't have proper costumes for characters to greet park guests. Walt Disney borrowed costumes from the "Walt Disney's Toy Shop" segment of the Ice Capades for just the opening day. However, guests really took to the characters walking around the park and Disney decided to make the characters a permanent part of Disneyland. The original Ice Capades costumes, however, featured large netted spots so the ice skaters could see and they were really only meant to be seen from far away for a short amount of time. Since the Disneyland characters would be seen up close, costumes were redesigned in 1959 into a more cartoon-y look. This change also made the characters a lot less scary looking. The costumes continued to be redesigned to be better and better. By the time Walt Disney World opened in Florida, the characters looked much more like they do today.
Cost
Back in 1955, the cost of admission and the cost to go on a ride were completely separate, similar to a fair or carnival. The cost of entry was $1 for an adult, and rides varied between $0.10-$0.30 each. It wasn't until 1981 that Disneyland converted to an $11 flat fee for the admission and rides. That's a stark contrast to the $97 starting price we pay today.
Disneyland Map and Expansion
The five original lands at Disneyland on opening day were Adventureland, Frontierland, Fantasyland, Tomorrowland, and Main Street USA.
New Orleans Square opened up in 1966.
Bear Country (later re-named to Critter Country) opened up in 1972.
Mickey's Toon Town opened up in 1993.
Currently Disney Imagineers are working hard to launch Disneyland's new Star Wars themed "land" which will be called Star Wars: Galaxy's Edge. The new land is scheduled to open Summer 2019.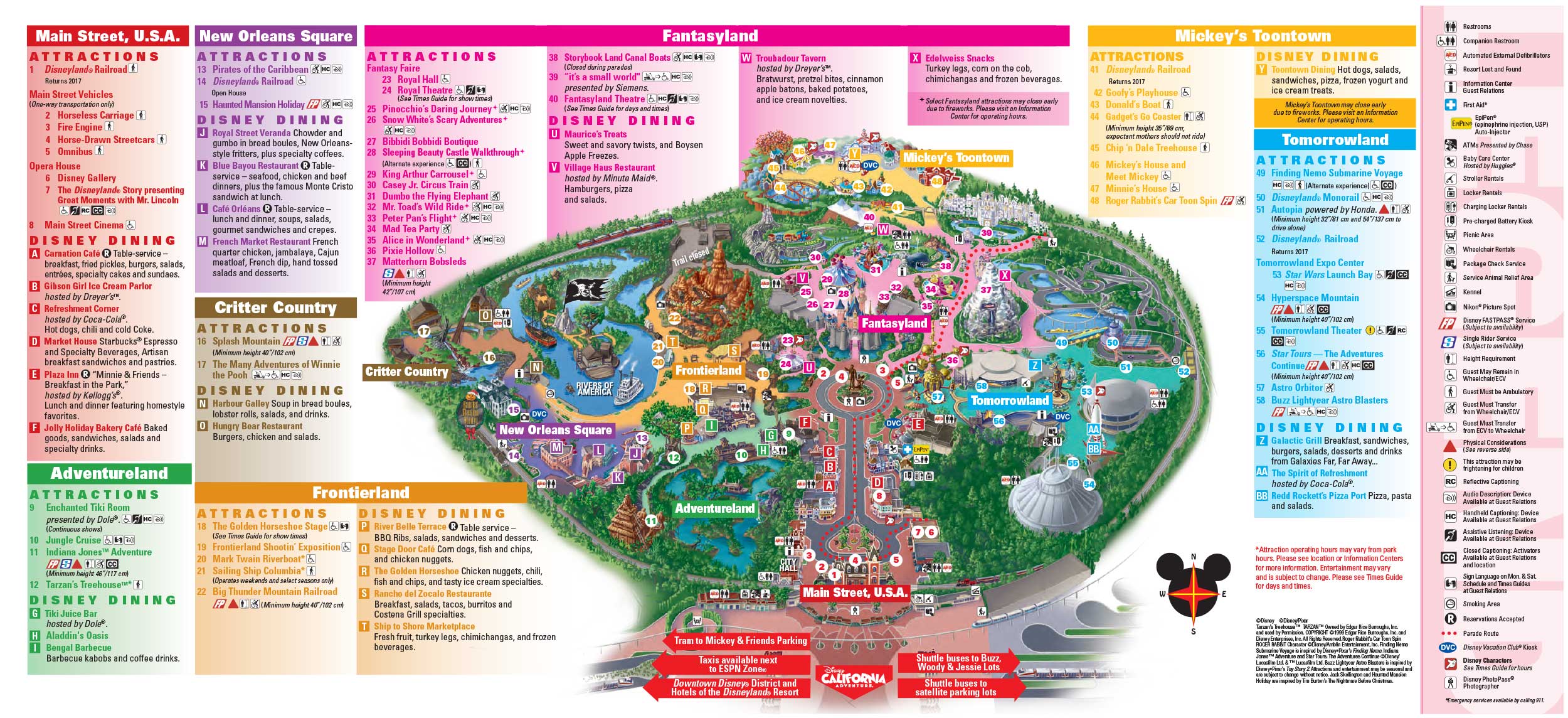 Since opening Disneyland in Anaheim, Disney has not only expanded within the United States with Disneyland Resort and Walt Disney World (1971), they have expanded internationally with Tokyo Disney (1983), Disneyland Paris (1992), Hong Kong Disneyland (2005), and the Shanghai Disney Resort (2016).
This is very little of Disneyland's history, but the complete history of the park could literally fill a book.
Happy Birthday, Disneyland! I look forward to experiencing many more adventures just past your magical turnstiles in the future.
Part time Disney princess, but I love the Disney villains. I enjoy things that are spooky such as zombies, skeletons, and bad witches. I enjoy sewing projects and making delicious food and treats. My favorite superhero is Batman, because I am the night.